The Barcode Setup tab allows you to change the technical settings for each barcode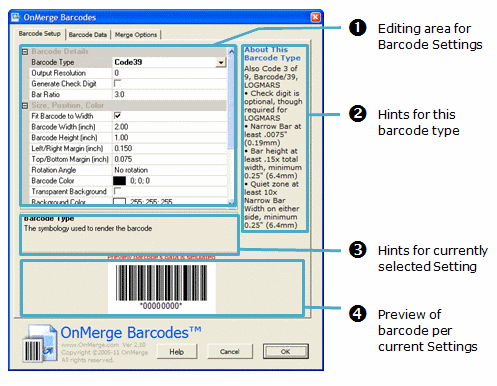 1 - Editing Area
Many aspects of each barcode's operation and appearance can be set. This area allows you to set many aspects of the barcodes operation and appearance. These range from the Barcode Type (Symbology) to color and size options. Each different setting is on its own line, and OnMerge Barcodes may add or remove other setting lines, depending on what is compatible with the current settings.
Individual settings are detailed here.
NB You may need to scroll the Editing Area to view all available settings.
Each Barcode Type (or Symbology) has varying technical requirements that must be met for correct scanning. Whenever you change the Barcode Type setting in the Editing Area, this area will show a summary of that barcode type's requirements for your reference. You must make sure that the settings you use match those technical requirements.
3 - Hints for Currently Selected Setting
Clicking on any setting line in the Editing Area "selects" it. This area shows useful information pertaining to the current setting.
4 - Preview per Current Settings
OnMerge Barcodes shows you a live preview of what the barcode will look like as you change the settings.
NB OnMerge Barcodes will create "dummy" data for previewing purposes if you have entered no data in the Barcode Data tab or if that data is invalid for the current Barcode Type.