Barcodes Done Right: Point and Click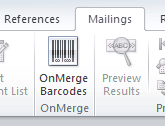 OnMerge™ Barcodes™ is a Microsoft Word addin that generates barcodes in MS Word. It adds full-featured and easy, visual barcodes to Word. It's easy but has all the options and features the most challenging applications need. The rest of Word works as usual.
Just click on the OnMerge Barcodes button in the Mailings menu to pop up the single dialog box that lets you choose the type of barcode you need from a menu of virtually all popular barcode types. Here's the list of barcodes. You'll get an instant preview of the selected barcode. Click a few more times to change size, hue, shade, rotation, white/transparent/shaded background, or other optional settings for advanced users.
Connect Barcode to Data by Clicking...
Or Just Type In Data
When you need to mail merge barcodes, point and click to select one or many mail merge data source fields from a list to generate your barcodes. Data sources can be most of the usual spreadsheets and databases that Word supports. Just use regular data; there's no need for any data processing to compute checksums or reformat the data into barcode-ready formats. No funny characters needed. It's all taken care of.
Not mail merging? Just click the button in Word's menu, type the data into the OnMerge Barcodes dialog. Again, no need for any funny characters, checksums, start/stop codes or data processing.
Just Double-Click Barcodes to Visually Edit.
Plus, Live Mail Merge Previews
Create as many barcodes as you like on the page or in your MS Word document. Just double-click a barcode if you need to edit it. While setting up mail merges you'll get a live preview of the barcodes as you page through data records using Microsoft Word's mail merge preview feature.
Great Barcodes Ready For Bad Data
Adults have to plan for this stuff: What happens when you're mail-merging and that occasional error creeps into the data to be barcoded? Sooner or later, missing or incorrect data records will happen when you're mail-merging barcodes. You can't spot a bad barcode just by looking at it, and it would create big problems when scanned later.
Barcode scanners and readers have no common sense and no sense of humor. Realistically, you can't have a barcode solution for ongoing use unless you have a system to catch and deal with bad or missing barcode data, even if you think the data is good.
OnMerge Barcodes will not produce an invalid barcode. Depending on the error-handling option you set up, OnMerge Barcodes can pop up an explanation of why that record's data is invalid, or it can insert a text box containing that explanation into the document and keep mail merging. Or, it can skip the barcode or even insert a completely different graphic of your choice!
Send Your Barcodes to Anyone
You can use Word's Mail Merge To E-mail feature because OnMerge Barcodes uses no fonts or ActiveX controls. E-mailed barcodes are embedded into email as ordinary images.
Send entire mail-merged documents made with "Save As Document" or "Edit Individual Documents." Again, no fonts or ActiveX controls to install on the other end, meaning any recipient can view and print your files. The recipient only needs OnMerge Barcodes in their Microsoft Word if they need to change the barcodes or make new ones.
Designed for Dummies. Experts Too
Anyone who knows Word's Mail Merge will quickly be mail merging barcodes within minutes. OnMerge Barcodes is designed from the ground up as consumer software that becomes part of Microsoft Word. Same ease of use as Word's regular features, same quality of integration with other Word features and with how you work. Just for experts: know what an FNC1 is? OnMerge has 'em.
Free Offer
Enough words! We believe OnMerge Barcodes is the best barcode mail merge — and single barcode — solution but we might be just a wee bit biased. You be the judge. Take advantage of our 15-Day Free Trial Offer and see for yourself. Just click the link below.

FREE: Get Your OnMerge Barcodes Trial Version instantly
$99.99 Dollars
Very, very reasonable for a barcode solution that includes both 1D (linear) and 2D barcodes such as QR and Datamatrix. Standard, no extra charge for the 2D barcodes or for the new postal barcode. Best of all, we offer free phone and email support (Pacific business hours).
Still Have Questions?
If we haven't explained something you need to know:
The trial version is identical to the retail version except for the 15-day expiration and a 3-page limit. If something works in the trial version, it'll work the same in the retail version.

Order OnMerge Barcodes with 100% secure payment
Need to Mail Merge Logos, Signatures, Photos, Graphics?
OnMerge Images is our sister product that lets you mail merge any kind of photo or graphic file into your documents. It's just as easy and slick as OnMerge Barcodes, and they work great together or separately. You can get a real discount over buying them separately with the OnMerge Images+Barcodes bundle. Check it out here.
Comparing Barcode Features
OnMerge
Other
Full collection of virtually all the popular barcodes. Both 1D and 2D barcodes (including QR, PDF417, Datamatrix) are in the standard package
$99

.99

Easy-setup web addresses and vCard contact information for QR Codes
Yes
Compatible with Microsoft Word 365, 2019, 2016, 2013, 2010
Yes
Works with Word's Mail Merge, including the Mail Merge Wizard
Yes
Point & click to select Data Source fields. Supports multiple data fields in one barcode, e.g. FirstName + LastName
Yes
Works with Word's live preview feature, including labels and other multi-record-per-page layouts. Lets you check what merged barcodes will look like
Yes
No special data processing, no special characters are needed
Yes
Mail Merge barcodes to e-mail
Yes
Documents with barcodes can be sent to anyone; recipient needs no special fonts or ActiveX controls
Yes
Barcodes are easy to resize by click and dragging
Yes
Automatically deals with invalid or missing data records in Mail Merge
Yes
Great for beginners or experts; slick, fully integrated with Word's features
Yes
Free phone and e-mail support
Yes

FREE: Get Your OnMerge Barcodes Trial Version instantly